Kayaking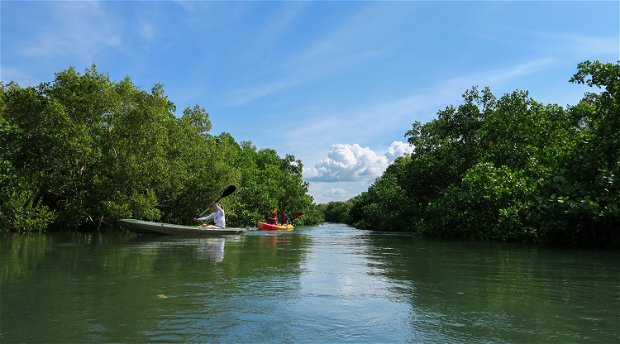 Kayak the magnificent Msangazi River or the Indian Ocean from Kijongo Bay, it's your choice. For the more adventurous you can take a kayak along the coast and discover the nearby Sange Island or fishing village of Kipumbwe or a little closer to the resort, spend hours exploring the channels of the calm and beautiful estuary of the Msangazi river, only a few minutes' walk from Kijongo Bay Resort.
Kijongo Bay is surrounded by the magnificent tidal estuary of the Msangazi River. Explore this vast estuary at high or low tide, for an experience you won't forget in a hurry. The estuary's mangrove forest is massive and diverse, with endless channels of mangroves just waiting for you to discover. The quiet serenity of the mangroves, as you slip through silently, will take you to a forgotten time. If you're lucky you will surprise a Kingfisher, Egret or Fish Eagle as you drift close to their perch, completely unnoticed. When you've spent your energy navigating many of the seemingly endless channels of the estuary enjoy a sundowner or picnic lunch ready and waiting for you along the riverside. Or feel free to bring a packed-lunch and stop at one of the sand isles for some quick refreshment. Fantastic fun for the whole family.
If you really love adventure, head to the estuary at the low-tide and portage through the mud! A great way to find mudskippers, fiddler crabs, or maybe even a nesting site.