Dining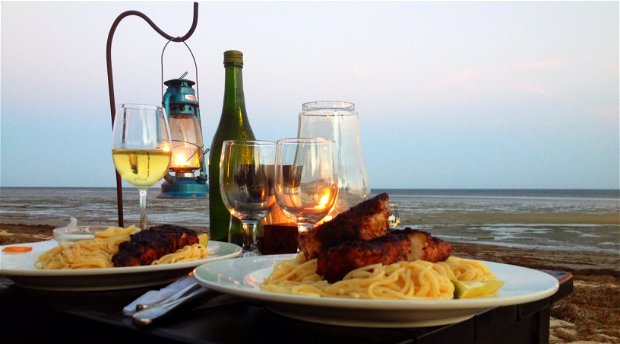 In your normal daily life, Kijongo Bay understands that you are constantly having to make decisions, from large life changing choices to small mundane matters; including the daily decision on what to eat.
On vacation it is time to relax and let your cares drift into the background. At Kijongo Bay Resort we offer a set menu of delicious freshly prepared homely food. The only decision you really need to make, is what time you want to tuck in.

All of Kijongo Bay Resort meals are prepared, wherever possible, using locally sourced produce, whether it is freshly caught seafood, locally grown fruit and vegetables, Zanzibar spices or produce from our own kitchen garden.
All meals are prepared using seasonal produce and made fresh each mealtime. We only buy sustainable species of sea food, from local fisherman, and source our fruit and veggies from local farmers, where possible. Our free-range chickens supply the eggs we use daily. We bake our own bread, make our own yoghurt, and prepare our own muesli (based on Grandmas recipe). All our jams, ice creams and sorbets are also homemade.
Our daily menu is displayed on the restaurant blackboard, allowing you time to inform us should there be something that does not fit your dietary requirements.
We can cater for vegetarian, pescatarian, vegan and gluten free diets, on request, but ask that any dietary needs are communicated to us on booking, so that our kitchen can be prepared.
As a family orientated resort, we also cater for children.
Each morning we offer a full breakfast, which comprises of our homemade muesli (granola), homemade yoghurt, freshly produced coconut milk, and cut fruit. Followed by, if you have space, a full English cooked breakfast, including eggs, collected that morning, and cooked to order. Freshly baked bread and homemade jams top off your morning feast.
Our two-course lunch varies daily, based around popular international dishes, such as pizzas, homemade burgers, fish & chips to samosas. Everyday there is a new delight to try. All freshly prepared and made from scratch, accompanied with salads picked directly from our own garden.
Teatime treats are served mid afternoon, to help to bridge the gap between lunch & dinner, and of course pre dinner drinks are served with some deliciously prepared bar snacks. Come down to dinner early and try out our freshly prepared cocktails and mocktails, enjoy an ice-cold beer or choose a bottle of wine from our wine list.
For dinner we offer a sumptuous three-course dinner, taking inspiration from around the world, with a medley of Italian, French, Swahili, Greek, Indian and oriental influences in our dishes.
Our menu changes daily, we guarantee no repetition during your stay with us, unless requested.
With meal locations changing all the time, you could find yourself having breakfast in the restaurant, lunch with your toes in the sand or dinner by candlelight at the swimming pool side, weather permitting of course.
Breakfast is served between 7:00 and 10:00, lunch between 12:30 and 14:00 and the kitchen is open from 19:00 and 21:00 for dinner. A snack menu is also available from 10:00 to 19:00.